If you've not heard of Clubhouse before, here are a few facts that will make you sit up and pay attention. Firstly, on the 11th February, Elon Musk tweeted "Just agree to do Clubhouse with @kanyewest" to his audience of 47m followers. Secondly, if you want to join Clubhouse, you have to be sponsored by a current member to get an invite. Thirdly, the audio social app has 2 million users, and is valued at $1bn by investors. And finally, China's government has already moved to ban it after a number of the country's citizens used it to discuss current affairs that were politically sensitive to the regime. Make no mistake, the audio social platform is already making waves, and looks set to be the next big social platform, alongside social giants Facebook, Instagram, Twitter, and TikTok. 
Of course, it's difficult to predict exactly how the crowded market will react over a long period of time; Google+, YikYak and MySpace all had initial success before being consigned to the rubbish bin of internet history. However, Clubhouse has something that none of those platforms had. A truly unique, groundbreaking idea that turns the concept of social media on its head. At this point, you may be wondering – what exactly is Clubhouse
What is Clubhouse?


Clubhouse is the trailblazer in a concept that's long, long overdue; audio social. I've written many times in the past about how audio is king, with the meteoric rise of podcasting and smart speakers (such as Amazon Alexa) in recent years. The market has been crying out for an social audio platform, and the San Francisco based developers have capitalised on that need superbly by launching Clubhouse.
However, joining Clubhouse can be tricky. The app is in the beta stage, and seems unlikely to be open access until the latter half of this year at the very earliest. Whether the developers are purposefully restricting access to drive up demand or not, that's exactly what's happened, with people all over existing social networks clamouring for invites. Celebrities, or other people of note, shouldn't find it too hard to score themselves an invite, as they help raise the profile of the network. If that's not you, you'll need to be invited by an existing member. As of February 2021, each user can only invite two other users to join them. My prediction is that by the time the app becomes open to all, the demand for invites will be so intense that Clubhouse will have the biggest, most successful launch of a social network of all time.
As for the app itself, the essential concept is that Clubhouse allows you to interact with other users by speaking. Think of it like a Zoom call, but without any cameras on. If you're able to get an invite, once you've signed up you are invited to choose your interests from a list of categories, and the app suggests people you may like to follow, or conversation rooms to join.
Once you're all set up, you can enter a chat with multiple people from around the world and speak to them directly. While this can often get chaotic if there are too many people on the call, this offers what traditional social media platforms promised but never delivered on; the ability to connect with people from around the world. While platforms like Twitter can be combative and impersonal, with everyone hiding behind their keyboard, audio social technology allows you to speak to people, voice-to-voice, in real time. 
However, what's most intriguing about the app is the ability to create rooms where a small number of people are speaking, and the rest are listening. Essentially, this allows people to have a conversation, while offering the opportunity for other people to listen in. Not unlike podcasting.
Podcasting and audio social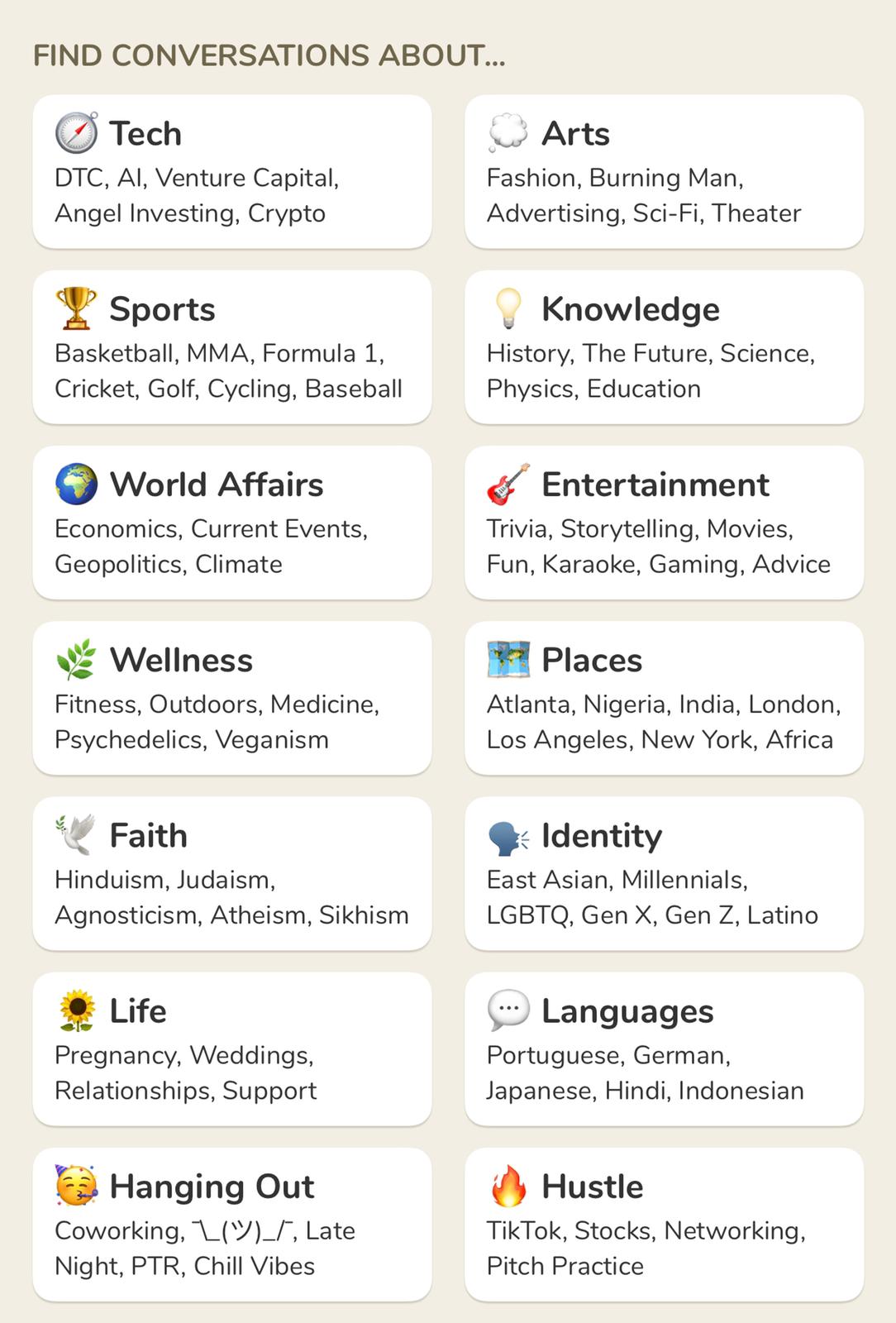 I'm calling it now, audio social will change the landscape of podcasting as we know it. Clubhouse is such a perfect platform for podcasters that I predict most of the world's biggest, most popular shows will be using it regularly this time next year. For podcasters, this makes perfect sense. They could, for example, host special shows on Clubhouse, inviting their listeners to tune in at a particular time and listen live. Live recordings of a podcast are nothing new, the annual London Podcast Festival has a curated schedule of events which allows members of the public to go and see podcasts being recorded, live, unedited and unfiltered. However, those events are typically held in big cities and therefore not accessible to all. Clubhouse allows podcasters to extend participation in live events to more of their fans. Even better, via Clubhouse, listeners can listen to the live event in the same way they'd normally listen; on the bus, while walking the dog, or while doing the dishes.
Additionally, hosting content on a platform like Clubhouse allows other users who may not be otherwise familiar with your content to find it. Let's say you run a weekly Rugby Union podcast that does reasonably good numbers. If you did live streams on Clubhouse speaking about Six Nations games as they happened in real time, you'd pull in many more fans that had never heard of you before, giving you the opportunity to get more listeners. When Elon Musk and Robinhood CEO Vlad Tenev held an audio chat on the platform in February, the chat room the conversation was being held in maxed out, and no new users could join. This just goes to show, there is demand from the market for content like this. If you're in the business of podcasting, you'd be foolish to ignore the potential of Clubhouse.
Ask anyone whose opinion is worthwhile, and they'll tell you the same thing. Clubhouse – and audio social in general – is about to go stratospheric. Hustle to get yourself an invite and get on the platform now, so you can stay ahead of the game when it finally launches.